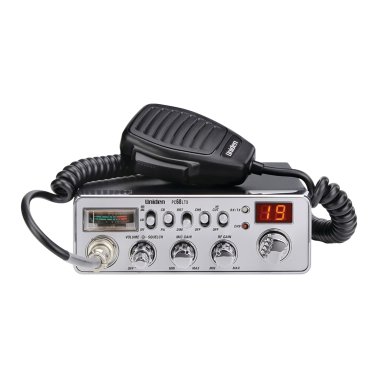 Uniden Bearcat® 40-Channel CB Radio, Chrome, PC68LTX
Regular price $119.99 Sale
Uniden PC68LTX 40-Channel Trucker's CB represents the highest quality communications device designed for use in the Citizens Band Radio Service. It will operate on any of the 40 AM frequencies authorized by the Federal Communications Commission (FCC). With its classic, chromed CB style and solid performance, this CB radio offers multiple adjustments to allow for fine-tuning the signal and sound. Squelch control settings as well as the ANL/Noise Blanker option reduce static for better clarity. Microphone adjustments to the gain allow for better control over the mic sensitivity, plus it comes with an extra-long microphone cord for operator convenience. Please note this radio does not have an SWR meter but does have an analog S/RF meter. CB antenna is sold separately.
DETAILS
40 channels; enhanced channel selector offers more positive channel selection and reduced drift
Bright LED channel indicator with easy-to-read meter
Analog S/RF meter; no SWR meter
Automatic noise limiter/noise blanker
RF gain control, microphone gain control
Instant Channel 9
Public address capability using PA/CB switch and external speaker (sold separately)
Sturdy microphone with left-side positive push-to-talk button and extra-long cord; front-panel microphone connector
Includes DC power cord, microphone, microphone hanger, mounting bracket, and manual
SPECIFICATIONS
14 x 8.7 x 3.7 in., 4.2 lbs.
6.4 x 6.3 x 2.2 in., 3 lbs.
Instant Channel Emergency Button
Product does not require a battery